Everyone needs a house to live in, but a supportive family is what builds a home.

Anthony Liccione
I originally wrote and published this post in July of 2019. The other day, I came across it again while perusing through the blog. The fall always does this to me; it brings out the nostalgic feelings in the most remarkable ways. It's the colors. It's the cooler air. It's the thought of Thanksgiving and Christmas coming soon, and the possibility of snow. I love it all. The fall season brings me to life.
As I read through what I had written over a year ago, I thought: this sure didn't end the way I thought it would. And still… I love our story. Joe and I worked so hard to make our blended family work. I'm so proud of us. We made many sacrifices, learned a LOT about ourselves, and one hundred percent made many mistakes, but our kids were always taken care of. There are many things I wish I would've known back then- that I could teach a class on now- but those experiences are what's made me who I am today.
Joe and I always worked as a team. There was not one single thing that he wouldn't do around the house. (I always felt bad for the boys the girls dated because I knew there was going to be much expectation.) He cooked, cleaned, washed dishes, vacuumed floors, changed diapers- whatever needed to be done. He even cleaned up the puke- even out of the van when the kids and I rescued five stray- starving puppies from the soccer field one Saturday. Before we got home, they had ALL puked. I knew I was gonna have a very unhappy husband when I pulled in the drive with my surprise(s)– and I did. But Joe… they were STARVING!
(There were, however, two smells that Joe could not tolerate- dog poop and a dead mouse. And I have stories about both that would bring you to tears. All I had to do was mention one of those, and his gag reflex would kick in- that was always FUN!) 😉
But this is where it all began. And as the Lumineers remind us… "Nobody knows how the story ends." This song (posted below) evokes everything in me—a looking back, the present moment, and the possibility for the future. Sadness. Truth. Joy. Hope. There is so much truth here.
We may not have the fairy tale ending, "happily ever after," but we did have a very happy beginning.
The House That Built Us
This is the house where it all began. We had one bathroom, a dining room, living room, kitchen, mudroom, two bedrooms, and an unfinished attic- that we didn't use. Two bedrooms. one bathroom. five kids. And somehow we made it work- for nearly two years.
I have many great memories that were made in this house. On that very porch is where Joe proposed. In that living room was one of the best Christmas' I can ever remember. In that kitchen is where I danced with the kids. In that backyard is where my favorite picture of the five kids was taken. In the dining room on Christmas Eve, was where we were all singing into the giant dollar store microphones with the ridiculously giant, and oh so fun, dollar store glasses that mom bought the kids. Our first white Christmas was right there. It reminds me that home is wherever my family is. It was cozy (always cozy…hygge life) and needed some work. We talked about buying and adding on. That didn't happen.
We were pretty content in our tiny (though not by today's standards) house. We learned how to maneuver and make do with the space we had. We talked about moving and finding something more suited for our family size, but there wasn't a lot to choose from in our little town. And then one day while we were gone, to our horror -honestly- they came and cut down two of the beautiful, huge trees that sat on two ends of the house. One in front and the other on the side. The one, the kids, played in almost daily. We didn't know it was happening. We were heartbroken. Devastated. Sad. Mad. Confused. But the damage was done. The trees were gone. It changed everything. We no longer wanted to live here- not even the kids. We all cried. And we knew it was time to leave. A call to action is what it was.
Where we love is home- home that our feet may leave , but not our hearts.

Oliver Wendall Holmes
Even as I write this, I realize just how God was conspiring on our behalf the whole time! Isn't it amazing how things always seem to work out precisely the way they're supposed to? If only we learn to trust. And who knows how long we would have tried to make this little house work if they hadn't cut down those beautiful trees. It was as if God was saying, "Time to move on, I have bigger plans for you." Of course, we didn't know it at the time, but we would soon discover our final addition to the Beckley bunch would arrive the next year.
And just like that, we had secured our new place- five bedrooms, TWO BATHROOMS, closer to town but still in the country. Big yard, swing set, and new memories to be made, with the WHOLE family. We felt so blessed that we were the family chosen out of many that applied. A blessing from God; it's so apparent now. It took some adjustment and time, but soon our "new" house felt cozy and safe, just as we promised the kids it would. We loved it with all of the mature trees and the vast yard (though I'm pretty sure this is where Joe learned to loathe mowing…). For the next five years, it was home.
About four years later, on a weekend afternoon, we decided to take a drive out to the "country" to visit the old place we loved so much. The kids wanted to play in the creek and throw rocks into the water from the bridge like they used to and to see where they used to call home. And to introduce it to Lane, their little brother, that never knew this place. The house was abandoned. Bitter/Sweet. It was hard to see her in such ruins and to understand that no one loved her the way we did. Bitter. And it was a real treat to get to peek inside. To be nosey and to linger in our memories for as long as we wanted. The kids would recall their own special times spent here with a sudden "remember when…" and on and on the stories went. I was so glad we went. Sweet.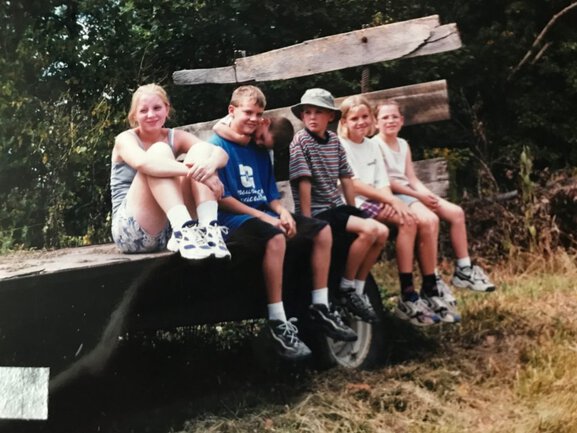 When you finally go back to your old home, you find it wasn't the old home you missed at all; it was your childhood.

Sam Ewing
And that was when I snapped the only photo we have of this house, right before she would be torn down; forever gone. My mom has a sign hanging in her kitchen that reads, "the house that built me." Although we didn't live here long, it was where we first became a family. It's where we learned to live together, to cohabitate with one another, and share a single bathroom. Where we lived when Joe and I got married.
The kids are all grown now and living on their own; they have been for years. And even though raising a blended family of this size was not easy, I sometimes do long to go back to this time in our life. Perhaps to correct some of the errors that were made (if we only had the wisdom of our older years to guide us!) or maybe to right some wrongs. Or maybe, just maybe to make the house feel alive again, bursting with noise and commotion. But there are no do-overs. We only get to move forward, and as Mya Angelou said, "when we know better, we do better." I'm proud of what we were able to accomplish. I wouldn't trade the memories we made for anything. I love these kids like crazy!
If you've been to our home, you'll recognize the old photo of the house. It's been enlarged and is hanging on the wall in our living room. I love that I was able to capture it in almost ruins before they tore it down. She looks worn out and ready to go, for sure. But to us, to me, this will always be the house that built US.