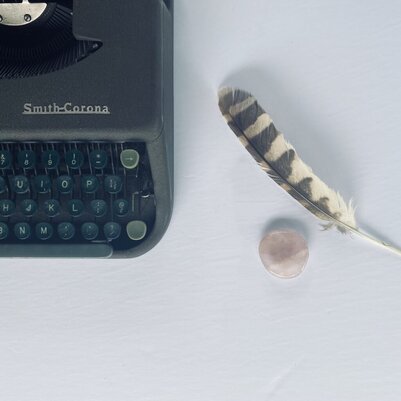 Our customers are so generous with the LOVE they offer. Curious about what they have to say? Then read on!
Amazing kNot Today numbers!  Congratulations!  I love all your posts. They are so inspiring! -Cathy
This is the first time I've ordered Witchy Woman. It's a great scent! Highly recommend! I've been happy with every candle. -Carol F.
I love Smokin' Hot Ginger, especially for the fall. It's warm, cozy, and not too sweet. -Marla H.
Love all your candles. -Alex R.
5-star rating from me. I love your products and was happy with how you packaged them. -Dianne H.
I have been buying Beckley's Best Blends Candle for more than 10 years. These soy candles burn very clean. My favorite scent is Spiced Cranberry. It's great for fall and winter. Beckley's has a scent for everyone and every season. -Dianne K.
Just received my Unbreakable candle and have it burning in my living room. It smells SOOOOO good! Love the hint of pine it is putting out in the room. Your packaging was amazing! So glad I made the purchase as I always enjoyed my conversations with Joe at the Belleville Art and Craft show at the fairgrounds. Great memories! -Emily R.
These are the BEST candles ever! -Kathy T.
I love the scents and wicks that you provide. My favorite candles !!! – James B.
Hello! My order arrived, packed with loving care, as usual. So pleased to receive the unscented candles to use around my scent-sensitive family members. But when alone, I am enjoying the lovely combination of the wood 'n whiskey candle. The scent is unlike any other – woodsy, plus. I would purchase it again and gift it to others. Thank you, as always, for a great product! xo -Connie F.
You go above and beyond to make sure everything is so special each time I order! -Michelle L.
I LOVE my candles!! And they all arrived intact! Your candles are the BEST!!!! Pam H.
I seem to miss out on the Spiced Cranberry later in the year, so I was very happy to find it now. I love it! -Liz M.
I loved the candles I received! Always prompt service from your company! I owned my own flower shop for 30 years so I always liked to order from local family-owned businesses. Hugs and prayers! -Kara M.
I can't thank you enough! I remember Joe making the last Pumpkin Brûlée because I had requested one way back then. Thank you for sharing your personal journey with us. -Cindy S.
Everything was great! I have always loved your candles. They are my absolute favorite! The packaging was very pretty! Could easily be used for gifts! -Kellie S.
LOVE our order!!!! We are burning our last Unbroken -I just love this candle!!! Hope you are doing well! -Ashley W.
Absolutely wonderful. Someone gave me one of your crème brûlée candles that they purchased at a craft fair a few years ago. I have so many candles that it took me a while to use it. Once I lit it I fell in love with the scent that traveled through the house and began looking for them. Had to wait a bit for your store to open but glad I did. -Jackye W.
I loved the candles I received! Always prompt service from your company! I owned my own flower shop for 30 years so I always liked to order from local family-owned businesses. -Kara M.
They're all so yummy! I look forward to purchasing more. Take good care and much love and gratitude. -Lizzy P.
We discovered these wonderful candles at the Frankfort Fall Fest. One sniff of the pumpkin crunch cake candle and we were hooked for life! -Rachel C
I'm thankful for the monkey farts candle. While I've been able to work from home I've been burning down a bunch of candles I never get to and I found my last monkey farts jar so it's lit today. It reminds me of my family's old farmhouse that we used to visit in the summertime. We would always open the windows and the house smelled so good. -Brandi P.
I truly love your candles! -Veronica B
Thank you again for producing a wonderful candle. I keep them in different places all over the house and Lighting them always brings me peace and joy. -Verray C
My best friend Denise and I came across your amazing booth at the Cranberry Festival in Eagle River several years back. We each tried a few candles after smelling several……and fell in love with the scents and quality of your candles! Now even when I can't make it up to our cabin for that weekend Denise has went and picked up what we need. Thank you again for pouring your passion into your candles! -Kim C
Love love love your candles! My daughter and I come to see you every year when you are at the Belleville, Il fairgrounds before Christmas!! ❤️ -Stephanie R.
I buy your candles every year at the Festival of the Little Hills. Thank you for making such great candles. Crème Brulee is my FAVORITE!! -Elaine L.
I love your candles and thank you!!! -April T.
I am grateful for many things including your fabulous candles that I found years ago at the Milford Art Fair in Michigan. -Cathie F.
Thank you for your upbeat attitudes and your continued commitment to all of us candle addicts. 😉
A faithful Fall Diddly follower. -Ann S.
Thanks for your wonderful candles…they relax me and make me smile. -Brooke S.
I love your candles which I purchase at craft shows in Belleville, Illinois. I am so glad I signed up for your mailing list! -Becky F.
I love my Beckley's. They are great for team gifts and Christmas presents. -Mary C.
The Nurses Nightingale set was absolutely amazing! I bought 3 of them one for myself and then one for the other two nurses in the office. Being a nurse this set had so much detail and meaning from the writings on the candle by Florence Nightingale. To the card that was put in there. You put so much thought into this and it was truly one of my favorites and the other nurses at work enjoyed it. I don't think I have ever bought anything that I did not love from you guys, you guys are amazing!!!!!!!! -Michelle W.
We love your candles and buy them anytime we come across your booth at a craft fair. -Nicki R.
Just switched out our burners to Butt Naked and I'm thankful for the sweet pick-me-up scent it leaves!! -Meranda N.
5 Stars. I Love the Candles. I gave one to a Nurse on the Front Lines as a Thank you and will give one to my Mother-in-Law for Mother's Day. Thank you so much!! Marge B
First, let me say thank you for making the best candles I have ever burned. I bought one at Cranberry Fest in Eagle River WI and fell in love with them. -Teresa H.
I LOVE your candles! I look forward to grabbing some at Eagle River's Cranberryfest every year! -Katie P.
We've enjoyed the scents of Beckley's since we moved from Arizona to Missouri in 2007 when we discovered the booth at the Festival of Little Hills in St. Charles. Go every year we can, and always look for your booth first!! Thanks so much…grateful you make our home smell SO yummy! -Julie S.
Love seeing you in Milford and your candles…they are my fav and warm my heart when I smell them! -Melanie K.
We enjoy your amazing candles! We will see you when you make appearances at metro Detroit fairs and festivals! -Brian E.
I've been a fan of your candles for years and I always stock up at Frankfort Fall Fest! They make my home so cozy and happy. -Angie T.
I first discovered y'all at Art in the Park in Plymouth, MI. A friend sent me to pick her up her favorite 'Monkey Farts' and I've been hooked since! -Karin G.
I love your candles. The only reason I go to Fall Diddley!! ❤️❤️❤️ -Cheryl B.
My mother-in-law found you guys at an art show and gave me a Monkey Farts candle and I fell in love! Nothing compares! That's still my favorite scent! -Jessica T.
I LOVE your candles! -Deanna B.
I'm also thankful for your yummy-smelling candles. They can really set the mood of a home or space! -Laura S
I love your candles. -Darrell W.
Love your candles it's the only candle I will buy now. -Brittany L.
I appreciate and am grateful for you! Your random acts of kindness are much appreciated by your customers like me! I already buy your candles but you have created a customer for life. -Trisha M.
My favorite of all brands and scents! -Linda H.
I discovered Beckleys at the Quincy, Ill., Holiday Gift Show. They've been my favorite candles since, and I love to give them as gifts, or order them to be delivered where I now live in Florida! -Courtney N.
I absolutely love your candles. Love spell is so easy on the nose. -Susie R.
The candles I received from you are absolutely amazing!!! You are the only place I get candles from since I discovered your company at Frankfort Fest in Illinois. Thank you so much for making such high-quality candles that smell wonderful and aren't bad for you. You have a lifetime customer!!
Also, I have to say that Roasted is our household favorite. -Abby N.
I used to work bingo games at the VFW in Collinsville, IL. One of the players brought the candles in as a fundraiser. I bought two, loved them. Looked up the website, saw that you guys come to Belleville, IL, and said hell yeah! I try and go at least once a year. -Becki Z.
5 Stars. I Love the Candles. I gave one to a Nurse as a thank you and will give one to my Mother-in-Law for Mother's Day. -Marge B.
Love my candle. I burn it everyday. Will need more soon. -Cheri P.
It was the best thing ever. Not only did it smell amazing but it just makes you laugh at a time when everything is so serious. I live on your candles, I light one every night in my house. I can't wait to see what you put out next💜💜💜 -Michelle W.
I first saw (and smelled) Beckley's candles at the Fall Festival in Frankfort, IL. Do love your candles! You are are my 'go to' candle folks!!!! Thanks for keeping me on your emails. -Christine B
5 Stars. Love them. Was actually working on another order. -Sharon P.
I discovered you at the Vintage Market in Chesterfield, Mo. LOVE your candles and have bought many for myself and friends and family. Was a big hit as my book club Xmas gifts! (I chose all the funniest names! Monkey farts, one night stand, reindeer poop etc 🤣) -Laurne M.
My Granddaughter loves the Mother's Day package. You did it beautifully. Fun to introduce the family to your products. -Nancy W.
Thank you so much for the candles. You guys are the best! -Tara W.
Major hit! My Mom was thrilled. Thanks so so much! 🙂 -Amy S.
My favorite scent is back in our house! Will be back for more soon! -RN Sara
We discovered your candles at the Milford Memories I think 4-5 years ago! They've since become a staple and our favorite gifts to give. -Danielle M
A guest of mine gave me a Beckley's creme brulee for my birthday, and it is my FAVORITE scent!! -Gail L.
I found you all at the Country Living Fair in Columbus, Ohio. And I'm so glad that I did!!! -Demi F
I discovered you all in St. Charles, MO at the Festival of the Little Hills. I typically stock up during that weekend. Love Spell is my favorite. Thank you for making such great-smelling candles! -Amber L.
I fell in love with the creme brulee scent and bought some from the Plymouth art fair. I tell everyone that comes over about these candles and are my go-to gift to give. 🙂 There are so many great scents! -Sara K.
I got a candle as a gift from my coworker and asked her where she got it. She took me to the craft show at the Oakley Lindsey Center in Quincy and that's how it all started. She passed away years ago unexpectedly and I just order them online now. My family gets these every year for Christmas and they all love them too. -Karen K.
I discovered my favorite candles (yours) at Art in the Park in Plymouth, MI. -Janet J.
We discovered these wonderful candles at the Frankfort Fall Fest. One sniff of the pumpkin crunch cake candle and we were hooked for life! -Rachel C.
Want to share some love?
We'd love to hear from you.