What! That can't be true… it's 2020! 🙄
Yep…I've had a few Clark Griswold moments- more than once this year! (LANGUAGE WARNING!!)
"Ummm…your toilets gurgling." That was the text I got from carol while we were in Wyoming. "Hmmm…well, I can't really do anything about it from here, so let's not worry about it right now." (she was leaving.)
Not exactly how I wanted to return home- no toilet- but return home without a toilet is just what we did. I couldn't even force flush it with a 5-gallon bucket- it was FULL. But I've had so many people in and out of the house over the last 3+ months that I wasn't surprised.
I called one service, and she said, "you have to dig it up- we don't do that, and we don't locate them." I told her it would be ready when they got here. (I really DID believe that!)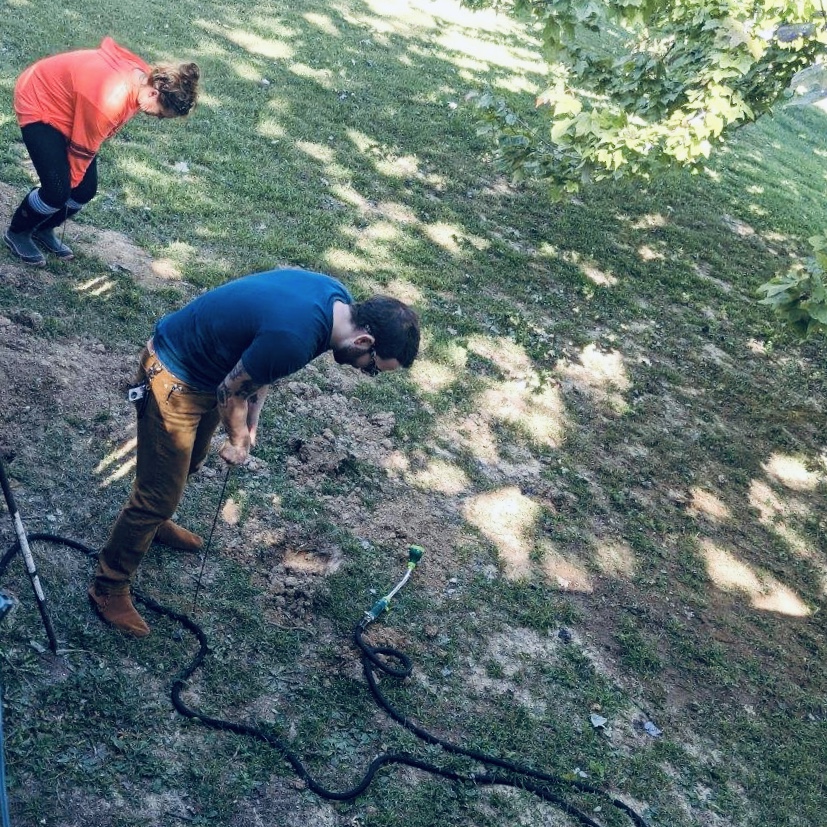 Kids- "when you come over tomorrow, bring your shovels, and we'll be peein' in the pines." And they came. While Erin and Amanda worked on the fish pond- the pump had stopped working- sometimes that's just the way it goes- Travis, Lane, and I "looked" for the septic tank- that Joe was able to find on his VERY FIRST TRY- years ago. 😔
Did you know it hasn't rained in weeks, and the ground is as hard as a rock? Yeah. It is.
Even as I write this, I'm still amazed at how Joe was able to locate the tank- the VERY FIRST time that it needed to be cleaned out- with only a hunch. (Our septic DIDN'T have a raised cap- why? NO IDEA! WHO THOUGHT THAT HIDING THE SEPTIC TANK WAS A GOOD IDEA!?!?) I remember how HAPPY he was to have found it that day- and 4 ft deep! To dig that deep, not knowing… No way. I would've given up for sure. It would've looked exactly how the yard looks now- piles of dirt everywhere! 😔 And 4 ft deep!? No wonder "we" couldn't find it!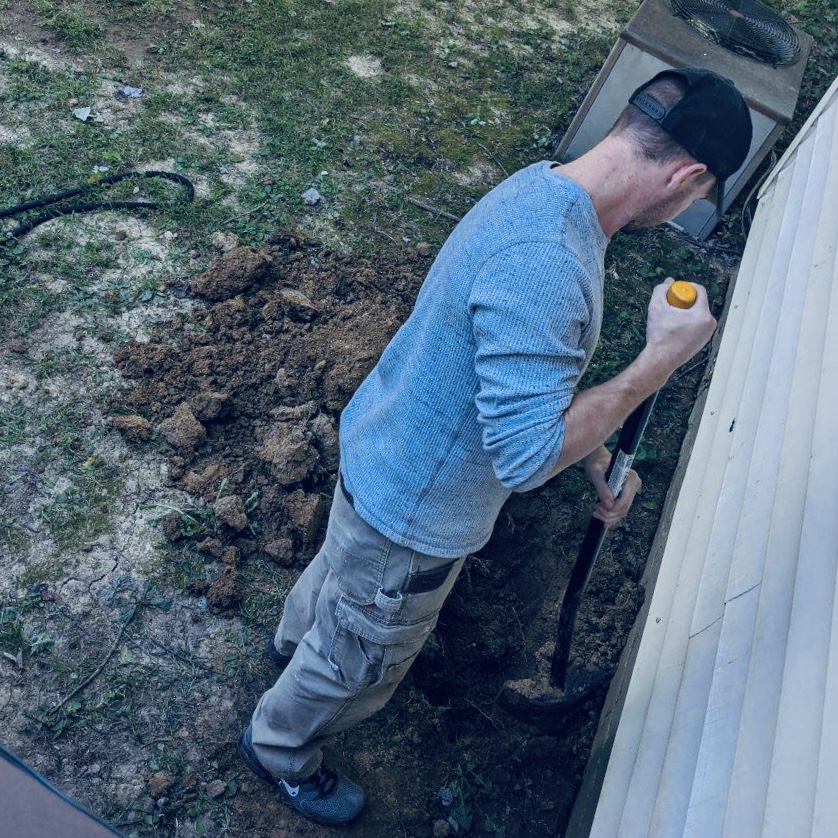 Nothing brings up RAW emotion more than moving your body and doing some heavy lifting, and it sure did bring it up. I cried. I threw a temper tantrum. I said things I didn't want to say- but I did say them- out loud. Maybe even screamed them, I don't remember. I threw stuff- heavy stuff that felt really good to throw – and in front of the kids- who are all grown adults- but still…it wasn't a proud moment.
Then I walked away. Calmed down, got into the pause, and reminded ME that I can do hard things.
I came back and apologized-they said they understood- and we went back to work. Eventually, we did give up sometime late in the afternoon when I made the wise decision to call the experts. Someone other than the first service ("you have to dig it up- we don't do that, and we don't locate them.") That's why we have experts. (Thank you!) They were here first thing Monday morning. (happy dance!)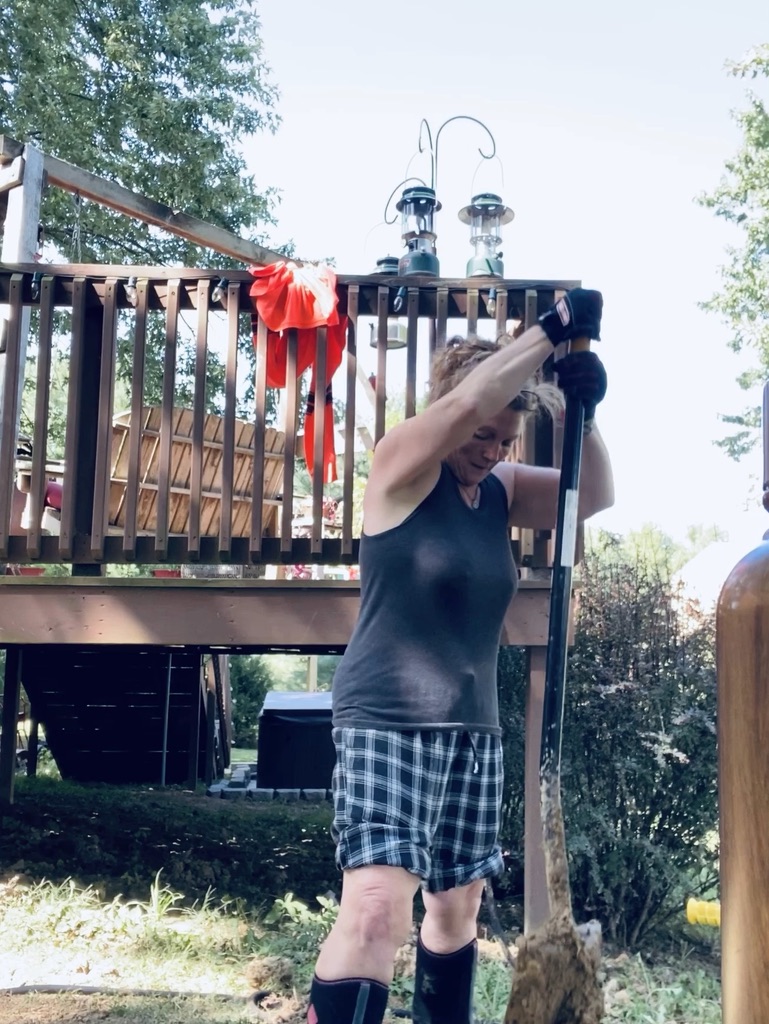 Can I just say -to keep a LONG story short- that morning, I felt hopeful -help was here. Then defeated -they couldn't find it either, and they weren't sure how to proceed without a backhoe- "did I know anyone that had one?" (NO!) Then elation- when the Calvary finally arrived. That's exactly how it felt when I saw three vehicles- one pulling a backhoe- and five strong men walk into my yard.
HEEEELLLLLLLLL YES!!
(hands raised to the heavens- yes…I know…the irony… 😉 )
I knew I was in good hands. And I was.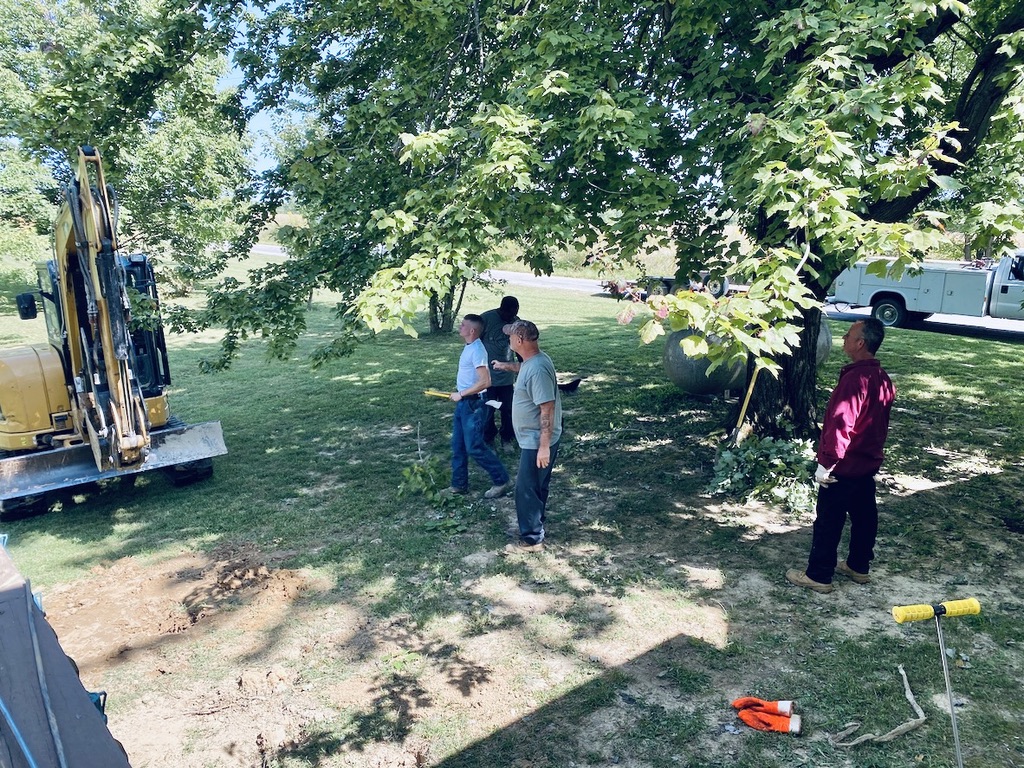 I cannot say enough about how I was taken care of by these guys. They settled my nerves and kept me calm- when they told me, "you have a bigger problem, and this was gonna take more than one day." But they advised me, we made educated decisions, and then "they" went to work.
This story's beauty is that I felt like my dad was here taking care of me (he died 3 years ago). Roy (if I remember correctly) – the older and wiser one- yeah… he was calm, reassuring, and confident; he KNEW what needed to be done. He came in, took charge, and got it done. He reminded me so much of my dad that I had to walk away and cry. Whenever I was in crisis, my dad would always say to me, "Don't get so excited." Roy had this same demeanor. I knew the minute I talked to him that everything was going to be OK. 
I was watching them work at one point, from the deck, and one of the guys looked up at me and asked- "Why are you always smiling?"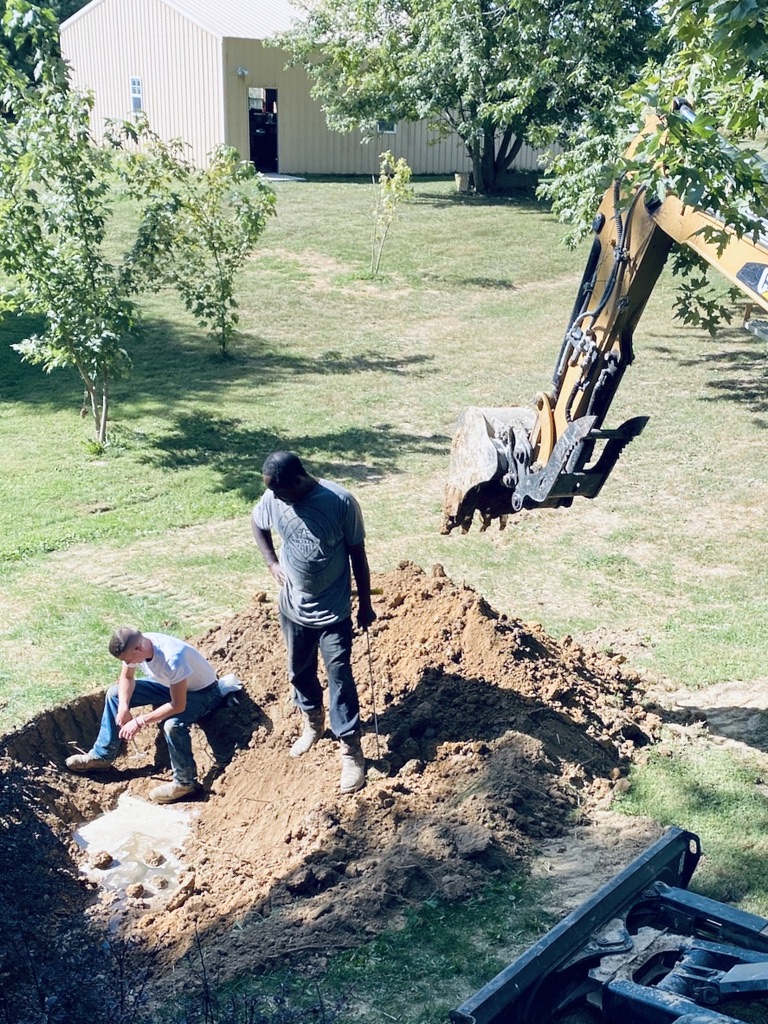 "Well, trust me… I wasn't smiling yesterday! At. All. But today, I woke up and remembered that it could always be worse. There's someone out there with bigger problems than me. I'm very grateful that this is all I have to deal with. That's why I'm smiling."
"Hmmm…I guess that kinda thinking is good for the soul." He said.
Yes. Yes, it is.
So at the end of the day, my yard doesn't look very pretty. It took more than a day, and the fresh new grass Travis I just planted-it's been dug up. And that's OK, too. We know it'll grow back. (But the moles- these little suckers are morphing into giants- mutant moles- the piles they're leaving behind…well… they're making me reconsider that sinkhole insurance!)  
So the septic is fixed, the yard is a mess, the kids have all gone home, and the toilet is in perfect working condition.
And things are always working out for me. Somehow.
And lest we forget what Erma Bombeck taught us years ago… "
The grass is always greener over the septic tank." 🙂
xo, and peace.