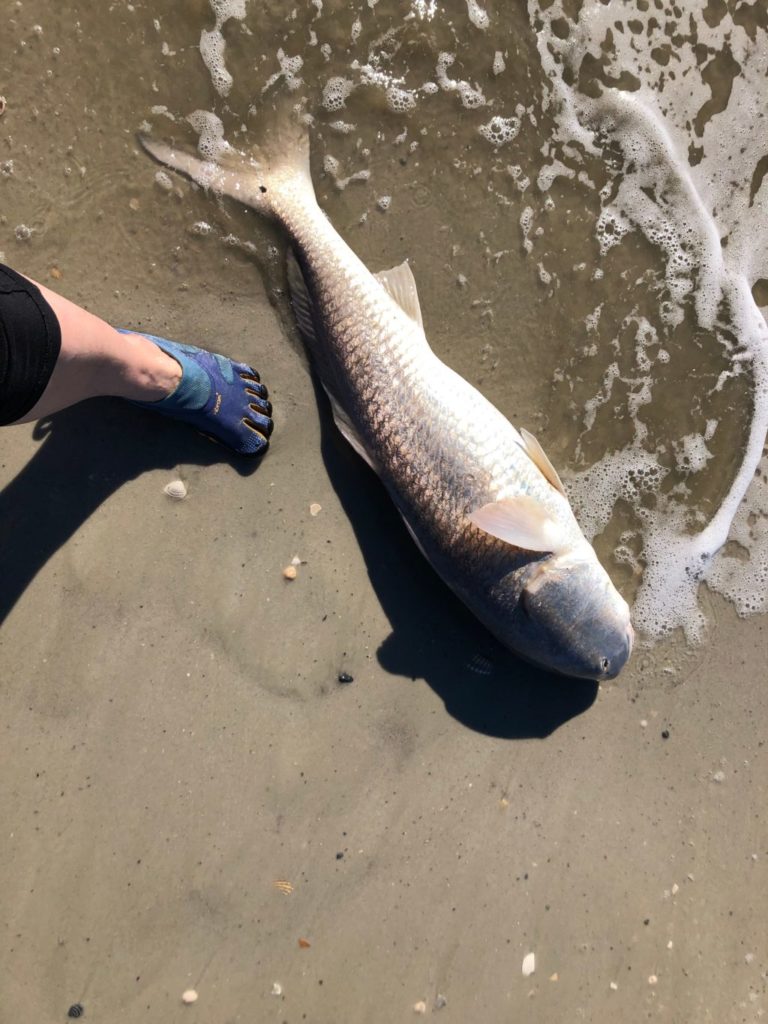 So this really did happen???!!!
This year Joe decided to bring his 12′ V-bottom boat to Florida for the sole purpose of dropping shark bait into a calm ocean. He was fishing for cut bait the first part of the morning, unsuccessfully. So he decided to drive down the beach a little farther- where he had caught fish the day before- hoping to be back in just a few minutes…leaving his lines in the water.
I was just sitting there minding my own business– reading- when he asked me to "just watch his poles" (just "watch" his poles!) and make sure they didn't end up in the ocean. Me…being the good steward that I am (obviously) was watching when I suddenly saw a large fishtail flapping- way out there in the water! OH SHIT! I knew immediately that this fish was on the end of his line (well… as soon as his pole started falling over, I was sure! HA!)
I grabbed the pole and started reeling, doing just as I'd seen him do so many times before- though I had no idea how this was going to end. As I was reeling in the line and fighting the fish, I was also looking down the beach, HOPING Joe was coming back (right now!) to finish what he'd started. There were two reasons: 1. I had no idea what I was doing or how to get the fish off the line once he was on the shore. 2. Joe was trying hard to catch big fish- he was missing out. This was his line, not mine. 
Thankfully, a sweet lady (Lynn) walked by just in time to witness what was happening. Of course, she thought I knew what I was doing. She asked me questions that I did not have answers to, but I was so glad she was there. I quickly scanned Joe's equipment behind me and the tools he'd left- how was I going to get the hook out?! While reeling as quickly as I could (for some reason, it just felt like something that needed to happen fast.) But neither Lynn nor I knew what I would do when I landed it… and did he have teeth!!??
BUT…thank God as soon as I pulled him onto the beach… the hook broke! (it really was my lucky day!) Being married to a fisherman, I know that breaking a hook is not a good thing, but this time it was! I had no idea how I was going to cut him loose, otherwise. I was so excited (and proud of myself) that as I pulled him from the water, I also dropped (probably threw) Joe's fishing pole- OOPS! I didn't even remember that I had a pole in my hand, let alone what to do with it. (I'm not sure why I was so "panicked," but I felt really bad that Joe was missing out on catching his fish.)
Lynn immediately retrieved the pole and told me, "she did know I shouldn't do that; it would need to be rinsed right away." She looked concerned enough about it that I thought I'd just ruined his reel. But I honestly didn't care at that moment; I just wanted to get the fish back in the water as quickly as I could. Before I did, though, Lynn said- "take a picture." (Thank you, Lynn!)
It ended up being a Red Drum. When Joe finally returned, he was thrilled for me! Well…besides the fact that his pole had gone swimming. :/ But really, he was so happy. I think he was hoping I'd be "hooked" and want to keep on fishing. (I wasn't.) I didn't know and didn't even think about keeping it, but after looking at the pictures, Joe said it was too big to keep- there's a slot limit on Red Drum. I was relieved because, yes, we would have eaten him. He doesn't look as significant in this picture as he was. REALLY! He was BIG! My foot is a size 8.5
Thankfully we had fresh water in the truck, and Joe was able to get his reel rinsed and ready for the next big one. Yes…later that same day, this happened!
Patience and persistence.
This shark was caught and released unharmed. WOW! These moments are so thrilling…really! You never know what's going to end up on the end of the line, but when it's a shark of substantial size…like this one… just WOW! What a day this was!