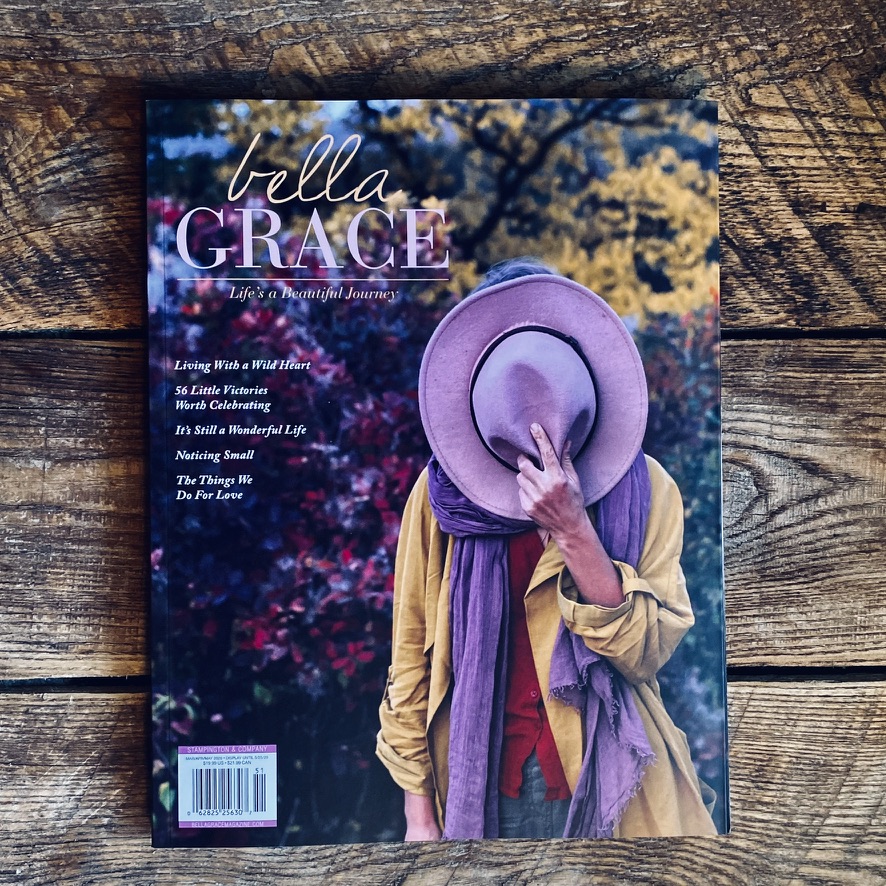 That's the only way I can describe the experience that I had just a few days ago on my way home from Florida. I was standing outside my hotel room talking to my brother, Mike, and his girlfriend, Charlene, explaining to them how I am moving forward with my life in the aftermath of losing Joe. Mike had been so worried about me. I could see and feel the distress coming from him. I wanted to ease his mind and help him to know that I was, indeed, going to be better than okay… "I am going to THRIVE," I told him.
They were listening… and so was I, to my own words. We talked for a while, and I answered their questions. It was good to share with them all that I'd been experiencing and how this trip was healing and transforming me. Then we went inside and sat down. I pulled up pictures on my iPad to share with them some of the things they'd missed over the last months and YEARS since I had last seen them.
While perusing the pictures, I came across the piece that I had written, and Bella Grace magazine had published earlier in the year. With excitement, I asked, "Did I tell you I wrote a piece that was published in a magazine?" Of course, I had not. Our brief text messages back and forth were always just that, brief. Do you want me to read it to you? "YES!" they both said. So I did.
I hadn't read it myself since it was first published in March (what a birthday present that was!) That morning, March 1st, Joe woke me up and said, "get dressed, we're going to the bookstore." And off we went for the hour and a half drive to Panama City, Books a Million. After waiting for the store to open (sigh) we made a mad dash for the magazine rack, each picking up a copy and thumbing through it as quickly as possible. Who would find it first? Joe did, of course. In his no-nonsense way, he went straight to the index and said, "page 78." We both went silent as we read MY WORDS in print. It was exciting and scary. Vulnerable and exposed. That's how I felt, even with Joe. I'm sure I was shaking.
"WOW!" That's what he said. "I'm so proud of you! Has your mom seen it yet?" NO! I told him. As soon as we purchased our copy (plus one other), we went to the truck, and I called. I had given her a gift subscription to BG for Christmas, not knowing then that my piece would be published in the first issue she would receive in March. Her copy arrived earlier than expected, and I kept waiting to get a call when she spotted my name, but she never did. (Joe was the only one I had told that I had been selected when I got the email two days after Christmas. It was always his opinion that mattered to me.)
Looking back, I can see, as could cousin Carol, that this experience did play a role in what was to come. I couldn't see it then, but it's so apparent to me now. Joe felt that he was holding me back because of his depression and seclusion. He told me this many times. I couldn't get him to see it from any other perspective, other than his own. The isolation we were in was not imagined; it was real. At this point, we were up to our necks, treading water. I say "us" because I was in it with him as deeply as I could be. Remember, I was going along, trying to make his life, our life, continue to flow in the best way that it could, given the circumstances.
As I read my words to Mike and Charlene, I was stunned. That's the only way I can describe what I felt. The tears just started falling. I looked up at Mike, and he was shaking his head, also in a state of disbelief. He put his hand on mine as I just sat there and cried. I read to them almost verbatim what I had just said to them in the parking lot, standing outside. It hit me hard- like I'd ran into a wall at full speed.
"Oh my god, Mike… I wrote this for myself." It's as if the future Marie had a KNOWING of sorts. "These words were ALWAYS for ME!" A full-circle moment. More magic.
I realized once again, through this experience, that the Divine is always guiding us if we're open to receiving. A true constant when we're paying attention. It takes practice. I'm now connecting with that "Inner Knowing" through daily meditation and can't imagine it any other way. It's my biggest takeaway from this year so far…
It's ALL an inside job.
Even through the sadness and grief, there are many blessings. Of course, I still have moments and days that are so sad it's palpable. And all I can do is let it move through me, call on friends (if they haven't called me first), and JUST. BE. WITH. IT.
And then, like the sun refusing to stay hidden behind the clouds, I can see the light and beauty shining everywhere. I will continue to breathe and remember- without going backward- to take it one day at a time.
What if it takes a whole year? What if it takes more than a year? So what. What else have I got to do, besides become the me I am meant to be?
BECOMING.
What about you? Are you willing to… just breathe, and become the YOU you were always meant to be?
Say YES!