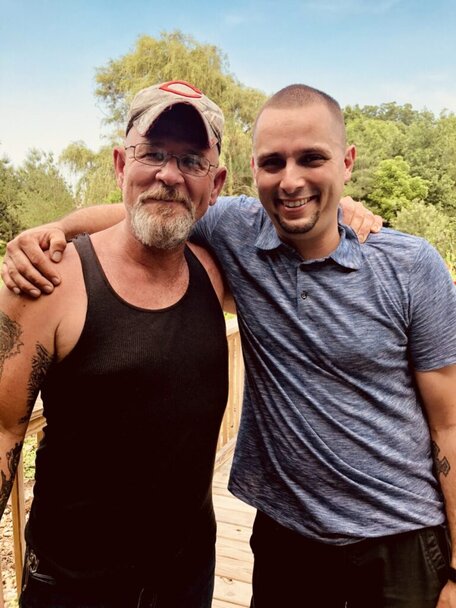 Who would've ever believed as we sat in the restaurant that night that both of these men would soon be gone forever?
A few years ago, Joe and I were in Rockford, IL, and had made plans to meet my nephew Jesse, and his family, who lived on the outskirts of town, for dinner.
"Do you have a round table?" I asked the waitress when we arrived at the restaurant.
"Yes, we do; Follow me," she said.
I always ask for a round table; it's much more conducive for engaging in conversation if you have more than a couple of people at the table. Joe and I were early and had plenty of time to become "the noticers" in the room.
After we were seated, Joe ordered a beer, and I got a glass of wine. We both sat with our backs to the wall so we could see the whole room and observe what was happening around us. I love people-watching. I remember as a kid, my grandpa sitting on a bench outside the grocery store while my grandma shopped, every time we went to Tennessee for a visit. He never met a stranger, and I suppose that's where I got my people-watching/talking skills, from.
As we began to look around the room, observing others, we "noticed" that there was not one person fully present with the company they were with. A phone (or more) was visible at every table. No one was having a conversation except for Joe and me––having a conversation about no one having a conversation. It made me sad. It made Joe even more bitter towards these devices we're all tethered to. He hadn't had phone service for some time. He didn't see the point in having two phones. We were always together if he needed to make or receive a call. He used his iPhone on wifi when needed and to listen to books while he made candles.
(But…just because he didn't have service, didn't mean he also wasn't on the phone more than necessary. I did, in fact, end up printing a book of his fishing pictures because I got tired of him using "my" phone to show everyone his fish pictures. He wasn't very efficient at finding those photos, and geeezzz… he would scroll through my photos, endlessly. I didn't want to share them with everyone standing over his shoulder. "Joe, let me find it!" I would always say. It was "MY" phone. And of course, he loved youtube. It was always his go-to for solving a problem if needed, and for watching fishing videos, etc.)
Across the room from us was an elderly couple. The man was eating, and the woman was talking on her phone. He looked out the window as he chewed. He would glance at her every few minutes, and then put his attention back to the window, and outside.
In the booth beside us was a forty-something couple. They both had their phones laying on the table so it was easy to see and recognize what they were doing. He was on Facebook, and she was playing a game.
Across the room and to our right was a family of four. A young couple with a daughter and son. No phone in sight––yet. They were at a very long table. We decided they must've been waiting for a larger group to join them (they were.) But not one phone on the table or in anyone's hands. I'm hopeful for a moment; will this family actually have a meal together? In full presence of one another, talking and listening as a family used to do when gathered together? I think they might!
And then, after only a few minutes, their young son began to cry. "Here it comes," Joe said. His dad said something to him, but they were too far away for us to hear what it was. "Don't do it." I think. (Joe and I had, at this point, witnessed on many occasions this exact scenario in our booth. We recognized immediately what was happening.) The boy's cries got louder and more demanding; he was not giving up! The dad looks at the mom; no words are exchanged, only a look. (I was still rooting for them!) For a minute, I think this couple is trying to teach presence to their kids. Joe and I were both watching, making bets on what would happen next. This boy was determined and his pleading cries grew angry. Unfortunately, the dad gave up after only a few minutes and handed the boy his $800 phone to play with—the crying immediately stopped.
Then, in walks a large group. They take the largest table in our section right in the middle of the room––an older group of sixty to seventy years old, would've been my guess. I know I can count on them to be fully present to talk, to look at each other as they speak, to remember what it means to share a meal and to break bread. Aren't they the ones, after all, that is most upset about this phone fetish we all have? But no. One by one, the phones appear—one in every hand. We were shocked! I just remember Joe saying, "WOW!"
As the restaurant began to fill with the dinner rush and the tables were at full capacity, no one family or group did not have a phone present at the table. (The section we were seated in had ten tables.) This feeling of becoming the noticer had indeed become a sad moment. I became disheartened. We were not surprised by what we witnessed, except for the crowd's median age (our age and up). We "noticed" that this was no longer a young person's issue. The whole world seemed to have checked out. These devices do not discriminate.
(I must tell you, though, that I did fight the urge to pull my phone out and snap a picture of what was happening. But I could see the irony, so I chose (this time) to keep it tucked away and silent. It felt good even if no one other than Joe noticed they had my attention.)
When Jesse and his family arrived, there were no phones. His two young kids––my great niece and nephew––didn't ask for one; I don't remember it coming up. Amazingly no one had to "google" anything or find a picture––where all of our images seem to live these days. It was just us sharing a meal and having a conversation, and it was refreshing!
That night also gave me more determination to remain steadfast in my effort to be in the full presence of those I'm with.
I see you.
I hear you.
You matter.
I will never forget learning this lesson with Toni Morrison years ago while watching the Oprah Show: "When your child (or anyone) walks into a room, do your eyes light up?" And as Maya Angelou reminded us; "People will forget what you say and forget what you do, but they will never forget how you made them feel." These lessons stuck with me HARD! I don't want to be the "judge(er"). I want to be the Noticer.
I always want anyone to feel seen when spending time with me. I KNOW I am never entirely successful in this effort, and I don't want to pretend I am. I am, though, getting better and better at it every day. Perhaps because I know firsthand now what it is to have the absence of the person whose attention I most desire.
It's always easy to look back with hindsight and see what we would or would not do differently. This meal would be one of the last meals Jesse and Joe would ever share together. Jesse took Joe's death hard. He was really mad at first. And Jesse, like many others, (myself included not so many years ago) believed that suicide was a selfish act. It took me helping him to see things with a new perspective to get him to soften his anger and come to a place of love and understanding around Joe's death. A death by suicide is a desperate act, not a selfish one. And, it wasn't a "choice." It was an illness.
And then sadly, just a few short months ago, Jesse was taken from us, too. A welding accident at work, an explosion on the boat as he was working. Sometimes it is hard not to be bitter. But what will that get any of us except more anguish? I still choose to look for the gifts. They are always there…somewhere in the tears and the struggles, in the grief and the longing, there are gifts. I miss them both so very much! And I'm glad that on that night, we chose to keep our phones tucked away and have a conversation together as a family.
I wish I could say that night of noticing everyone on their phones was a one-time "for instance," but it wasn't, as I'm sure you know. But maybe the next time you're out, you can become the noticer. Not to judge but to observe how we've all become less attentive and more distracted.
Can you do better at becoming fully present, at least a bit more often?
Can you put your phone down?
Turn it off?
Can you try for one meal, one day, one week, or one month, to eat with no device at the table?
Get curious.
But don't wait too long. One day, it will be too late to give someone your undivided attention. And time is the ONE THING we can never get back.
I would love to hear your thoughts. Let's have a conversation…
To your healing and to mine.
xo, and peace.
Marie
If anything I've said feels right (or wrong)… share some ❤️ ⬇️ and leave a comment (and thank you!)
Call or text 988 (USA Only) 24/7


www.suicide.org

I just want the pain to stop… (video)
Suicide is not a selfish act. It's a desperate act.

If you're keen to stay up with our candle news and receive discounts, you can join our VIP list for free, HERE, and opt out at any time